Dr. Manfred Keune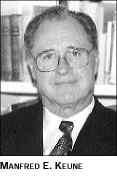 Manfred Keune, associate professor emeritus of German at The Pennsylvania State University, retired in 1999 after 32 years of service.
As assistant and associate professor in the former Department of German as well as in the current Department of Germanic and Slavic Languages and Literatures, Keune served in a variety of areas. After working in engineering in both Germany and the United States, he received his B.A. from Bowling Green State University in Ohio and his Ph.D. in German literature from Michigan State University.
Keune taught German language, literature, German-American intercultural relations and German culture on the undergraduate and graduate levels. He was instrumental in reconstructing the German major to feature options for business, German studies and engineering. He also performed extensive work in education abroad in Germany where he designed, initiated and oversaw programs for Penn State at the universities of Cologne, Flensburg, Kiel and Marburg.
Keune has worked closely with the Goethe Institute of New York and was a Fulbright recipient for a summer seminar in German studies in Bonn, Germany. He was awarded the Outstanding Faculty Adviser Award in the College of the Liberal Arts, as well as the Distinguished Teaching Award from the College of the Liberal Arts Alumni Society.
In his research and scholarly activities, Keune focused on the areas of German studies, American popular culture and German literature of the 19th and 20th centuries. He has been and is currently engaged in writing and publishing about the works of the contemporary German writer GŁnter Kunert.
In addition, Keune has held several offices in professional organizations and has served on numerous committees at Penn State and has been an interpreter for courts on the state and federal level.
Keune continues to write and consult, as well as travel.